At Cersaie 2021 (27 September – 1 October), Sicer will be offering a preview of some of its major new products on stand E9/D10 Hall 33, including its upgraded range of GLR glazes.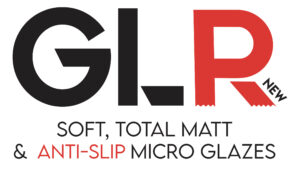 The new GLR series glazes not only have certified anti-slip and anti-reflective properties but also produce surfaces that are extremely pleasant to the touch and are therefore ideal for decorating residential interiors as well as outdoor or commercial spaces.
The GLR soft anti-slip range provides the perfect combination of technical and aesthetic qualities in a single product, ensuring perfect application, ease of cleaning, total transparency and development of digital colours, as well as a finished surface that is totally non-reflective, natural, textured and pleasant to the touch.

The GLR series allows the surface texture to be calibrated according to the required ratings (from R9 to R13) (A + B + C), thereby meeting the regulatory requirements for flooring in public spaces in different countries around the world. But what really sets this new range apart from most anti-slip glazes is the exceptional soft touch of the finished surface.
The glazes can be fully customised according to the needs of individual customers and production conditions. The new GLR glazes have a precise particle size and are ready to use, so no milling is required. Depending on requirements, they can be supplied as a liquid or in a dry form ready for suspension.


Another important innovation unveiled at Cersaie is the new STRUCTURE series consisting of materials for creating digital textures directly on the glazing line. This new range can be used to create an unlimited number of textures on ceramic surfaces (wood, concrete, etc.) and is capable of coordinating with digital designs and colours, regardless of the type of production plant used.
Sicer proposes two different solutions: ATOM-STRUCTURE and DIGITAL-STRUCTURE.
ATOM-STRUCTURE, available in the two versions ATS01 and ATS02 depending on the desired intensity of the effect, is a calibrated spray-dried product designed to be applied directly onto digital glue upstream of the glazing line.
The product aligns perfectly with the application pattern of the glue to create the desired relief and texture, after which all the other usual steps
in the production line are carried out.
Conversely, DIGITAL-STRUCTURE is a texturing/reserving agent which is applied digitally at the beginning of the glazing line, before or after the smaltobbio (highly vitrified engobe), and prevents materials applied on top of it from bonding, thereby creating material reliefs at the edges.
DIGITAL-STRUCTURE is available in white and transparent versions depending on whether it is to be used on ceramic body or on smaltobbio.


This and more on our BOOTH E9/D10, HALL 33.
Click HERE to download the free ticket.
We are waiting for you!