Sicer will attend CERSAIE and TECNARGILLA 2018
Cersaie Hall 33, Stand E9/D10 - Tecnargilla, Hall C1 Stand 031
Sicer at Cersaie and Tecnargilla 2018 presents two exclusive products: 
– Low emission inks, series ".LE"
– Exclusive range of grits for dry application for mirror polishing "G R A DRY-LUX"
SICER – CERSAIE 2018
hall 33 – stand E9/D10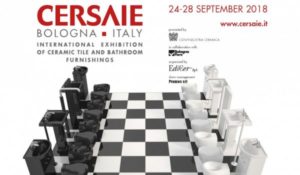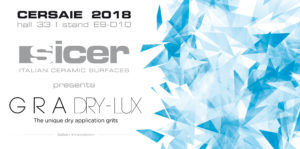 In Bologna Sicer launches the "DRY-LUX LOUNGE", booth dedicated to really exclusive graphic projects , made by the new "SIX COLORS PRINT SYSTEM" by Sicer and the new technical grits series G R A DRY LUX – THE UNIQUE DRY APPLICATION GRITS.
A new range of grits for dry application, for mirror polishing, that assure total transparency, correct thermal coefficient of dilatation, campact and deep glass. 
SICER – TECNARGILLA 2018
hall C1 – stand 031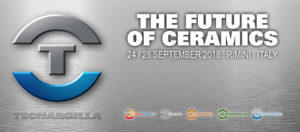 At Tecnargilla in Rimini,  Sicer presents the "TECHNOLOGY ROOM" , a stand designed for technical meeting and for the presentation of many digital technological innovations in digital field.
A really important novelty that Sicer launches in these two international fairs, is the exclusive range of LOW EMISSION INKS; series .LE.
Series .LE  are the latest evolution of the Sicer Inks research aimed at obtaining products with a very low emission environmental impact. 
The continue research for the evolution of ceramic inks has led over the years, to select solvents with high evaporation temperature, achieving excellent performance with formulations based on fatty acid esters.
Sicer's LOW EMISSION project is to reduce environmental impact by using solvents ultra-refined of last generation, maintaining unchanged the qualitative standard.
Inks .LE  have an almost no-smelling component and significant reduction in harmful emissions compared to the best eco-inks available on the market today. 
 We wait for you!
Cersaie di Bologna -Hall 33 – stand E9/D10
 Tecnargilla di Rimini -Hall C1 – stand 031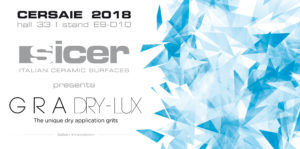 Download free ticket for Cersaie, click here! 
https://www.facebook.com/sicerspa/