HP series: Full Colored Glass Calibrated Grits
An innovative range of HP grits in 9 colors with 2 different particle size (.29 e .49).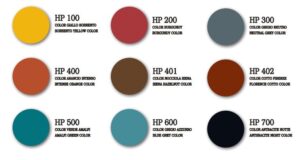 The new series HP, full colored glass calibrated grits for porcelain gres, has 5 mains features:
Color intensity and depth
Stability of the color
Vetrified and waterproof color
Non-reflecting soft effect
Possibility to generate custom mix with colored and neutral grits of the same particle size (HPX series)
Choosing the HP series, composed of 9 basic colors, and mixing it with other grits, you can obtain endless combinations, HPX series, which allow you to achieve any desired color effect.
The result is a very intense, soft and above all stable grits mix that gives to the ceramic surface a preciousness and a unique added value.
The HP series has been designed for traditional applications or with digital glue, both for dry and wet applications.
Download the HP Series Brochure, click here!
Find out more product's technical details.
See
Discover the other Sicer products
You might also be interested in